Delivering Proven Dental Marketing Campaigns For Over 8 years.
Tens of thousands of dollars have been invested in developing this integrated system so you don't have to.. We're here to deliver the highest quality leads to your dental practice  and ensure you're seeing a true return on your investment, increased revenue. We create and customize magnetizing state of the art marketing that grabs your potential new patients'/dentist applicants' attention and have them eager to learn more about your special offers and opportunities and become a life long patient of your practice.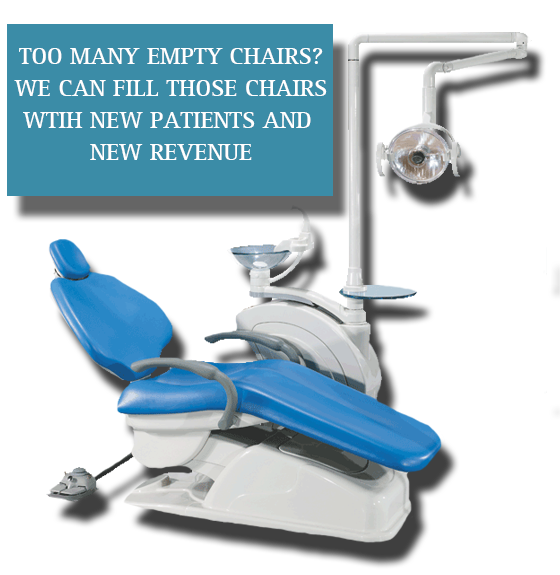 One Marketing Case Study-Dentist Acquired A Practice For $8,000
3 MONTHS in: Practice was now at 100 new patients after starting at ZERO.
Starting or acquiring an existing practice, or expanding one?  We care about your success &  your dental practice development.
How Soon Can We Set This Up?

No matter which tier of service you choose, we will have the entire system and ads setup for your practice in seven business days.
How Fast Can You See Results?
Based upon our experience online business strategies generally provide the fastest return on investment per dollar spent.
Our Dental Marketing Team Supports You
You will not find a more responsive marketing team to work with. Someone from our team is always available via email, text, skype, or phone calls 24 hours per day.
Talk To Us About A Free Marketing Consultation Today
We Solve Your Marketing Problems=More Patient Revenue-Grow Your Practice Today
Solid Marketing Plan
For a dental practice to grow, a single dentist should be seeing 24-50 new patients per month. And in order to attract new dental patients, a practice must offer a competitive product at competitive pricing, along with convenient quality services – all backed by a solid dental marketing plan.
The Customer Journey Is The Key To Scaling Your Dental Practice
See every step of the customer journey. You MUST know the ROI of each marketing piece you use or you are LOSING REVENUE. Discover how each piece of your marketing works together to nurture and convert customers.